PackVIEW
Warehouse Order Packing Validation
---
Real Time Each Verification Ensures The
Highest Accuracy in Order Fulfillment
Surging eCommerce demands have increased the challenges 3PLs, warehouse and distribution centers face with successfully delivering fast and accurate order fulfillment solutions. Fulfilling customer orders is still a very manually intensive process, and as a result, is susceptible to several points of failures including:
Inaccurate item fulfillment
Order shipping bottlenecks
Pinpoints Placed Goods, Without Slowing Down the Incorrect item quantities
Successful order fulfillment requires real-time order instructions, item packing validation and digital photographic archives providing photographic evidence of accurate order completion. To address these real-world challenges Vimaan has developed PackVIEW a first of its kind solution that provides an unparalleled level of order fulfillment accuracy, loss prevention and quality control for 3PLs, fulfillment centers and warehouses.
Ensures Completeness
Platform agnostic, PackVIEW performs audits against order manifests from inventory management systems and also extracts data directly from a physical pick order.
Real-Time Validation
PackVIEW enables Order packers to validate SKUs and receive alerts in real time on incomplete or incorrect orders.
Digital Proof
PackVIEW generates a digital photographic archive of all completed orders to support quick and efficient customer order resolution.
The Smartest Order Fulfillment Station
Improves Efficiency and Accuracy​
The Smartest Order Fulfillment Station Improves Efficiency and Accuracy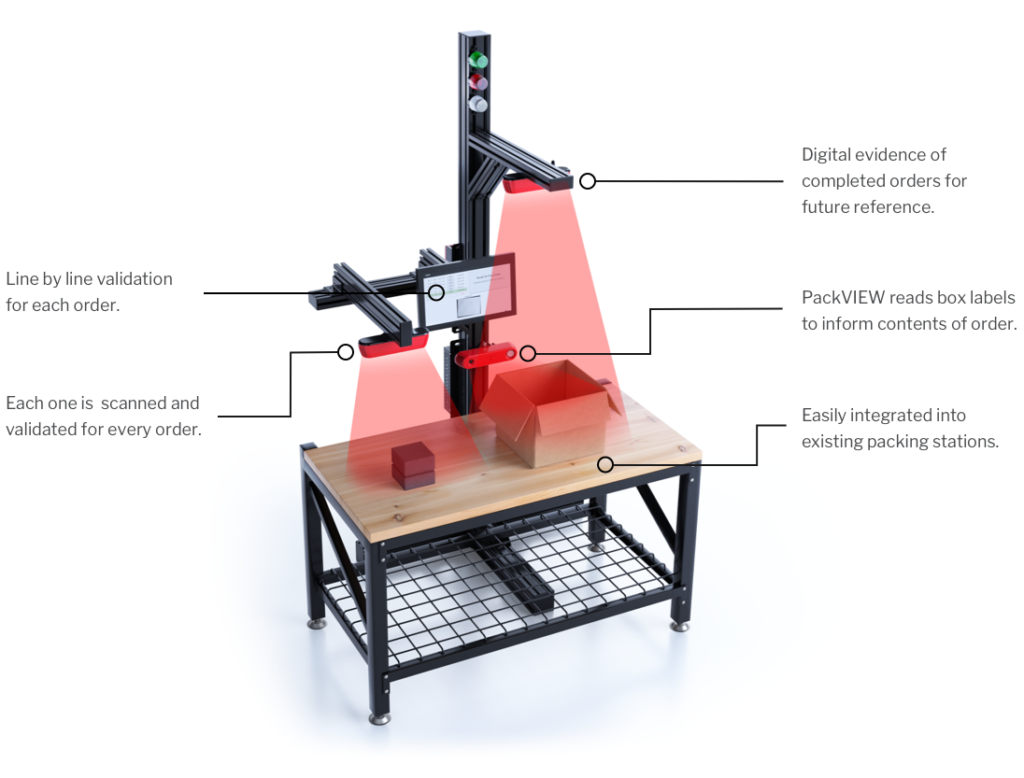 VALIDATE ORDER COMPLETENESS AND PRODUCE A DIGITAL ARCHIVE OF FULFILLED PACKAGES
CLOSED LOOP
REPORTING
Contents of all packaged orders are captured and documented as digital evidence of successful order completion
100% ORDER
quality
PackVIEW notifies order packers in real time if an order is incomplete or has incorrect quantities in real time
REDUCE CUSTOMER
CLAIMS
Many warehouses will include PackVIEW captured photographic evidence with shipped orders as evidence of successful fulfillment.
FITS INTO EXISTING PROCESSES
PackVIEW is easily integrated into packing stations and does not require deviating from established packing procedures.
Faster order
fulfillment
Order packers can process orders more quickly with the real time order package content validation
Improved
PRODUCTIVITY
PackVIEW validates picked items against the manifest in real time providing order packers with precise fulfillment direction.