Are Your barcode READERS firing blanks?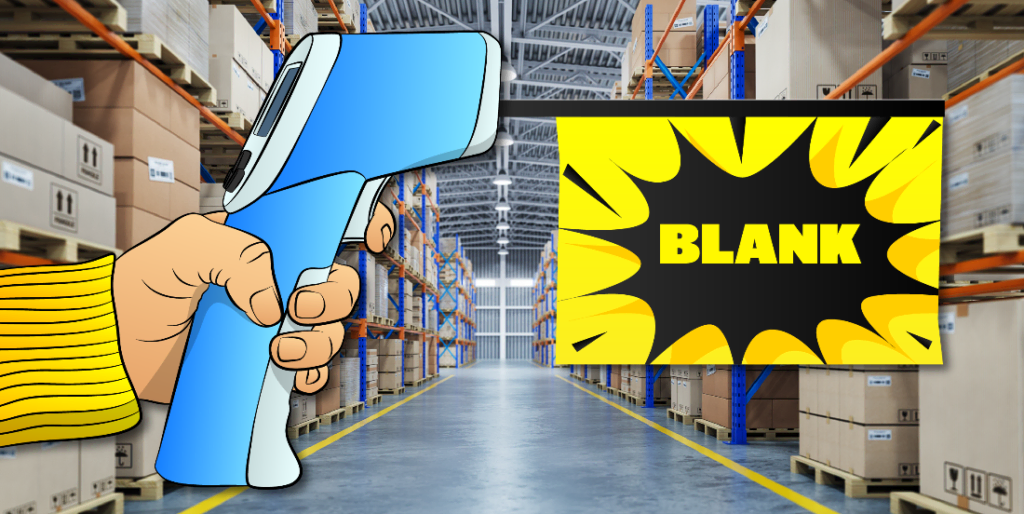 By Craig Dowley
Are you still using handheld barcode readers to track your inventory? Introduced to warehouses over a decade ago, the promise of these handheld devices was to allow for easy and mobile barcode capture. If you have been using handheld barcode readers for a while you may agree that productivity improvements plateaued long ago. Recent studies have shown that handheld barcode readers are problematic for product inventory due to their slow scan speeds, poor network connectivity and short battery lives. Additionally, warehouses can't get the full picture of their inventory by simply relying on barcodes; there is still a considerable amount of manual inventory inspection that requires costly overhead.
Handheld Misfires and Backfires
We have all seen this scene play out: an Associate circles an incoming pallet of goods, aims their scan gun, and squeezes the trigger. Then they hold their breath waiting for the "beep." If the beep does not happen, the associate then attempts multiple angles to find the sweet spot that generates that sweet sound. Even after the beep, each read is then visually inspected by the Associate to ensure a positive result. Now just imagine this painful process to scan a truckload of incoming goods.
This imperfect process can take hours and still result in an incomplete view of incoming and outgoing goods. Our customers have told us that no matter the manufacturer, handheld scan guns have been a long-term point of failure and bottlenecks.
Latency Problems
Wireless handheld scanners frequently suffer from latency challenges. Some devices require "heartbeat" or "keep-alive" packets to stay associated with an access point. Long latencies can cause the association to be lost and create communication problems between the scanner and its access point. Some of the leading handheld scanner manufacturers are aware of these problems and unfortunately release their guns prematurely and as a result constantly push out "updates" to their scanners, resulting in more productivity losses.
Circle and Shoot – Do You Have the Right Angle?
Warehouse associates can attest to the fact handheld barcode readers frequently misfire. These misfires require multiple scans to get just one code. Compounding the problem, sometimes you get "false positives." That's when a beep would seem to indicate the barcode has been read – but it hasn't. If the user is not constantly checking for other scan confirmation, inaccurate data results.
Every scan requires aiming at the code using just the right angle. In a typical inventory management scenario, the user must circle around a pallet of boxes – finding, aiming, and acquiring codes. This process is time-consuming, especially when the user needs to scan multiple times to get one code.
What's the Rest of the Story?
Barcodes don't tell the whole story – there's often a lot more information on a product label than simply the barcode. But of course, the single-purpose handheld barcode scanner can't capture any of that other valuable information, like product SKUs, dates, addresses and more.
Even when a barcode is successfully scanned, damages to incoming and outgoing goods often go undetected by warehouse shipping Associates. As a result, damaged goods are being added to your inventory, or even worse, reaching your customers. Receiving and shipping damaged goods are a costly pain point that handheld barcode readers are completely blind to.
There's Got to Be a Better Way
Add it all up, and what do you get? Handheld barcode scanners for inventory management are outdated. Who wants to waste valuable labor when there's a better way?
Between the false positives, constant maneuvering around goods and angling to get a single beep, let's face it: handheld scanners have become a time-consuming and unreliable method for recording warehouse inventory. It's time for warehouses to embrace the true potential of computer vision. For the past two decades, other industries such as automotive, food and beverage, and consumer electronics have transformed their businesses by using computer vision to improve quality and traceability; now is the time for warehousing to do the same. Major 3PLs and brands have recently begun to enjoy the potential of computer vision for improving inventory management, tracking and overall accuracy.
Many of these companies have deployed VIMAAN solutions including StorTRACK Ground to scan labels and barcodes over 2X faster than the leading handheld readers on the market. Additionally, VIMAAN solutions do more than read barcodes and labels, they are also designed to:
Inspect goods for damage detection
Count incoming and outgoing quantities
Report back discrepancies to warehouse WMS
What would a 2X increase in data capture and early damage detection mean for your company? VIMAAN Customers have discovered significant improvements in operations since deploying solutions like the StorTRACK Ground. One VIMAAN Customer reported a more than 40% reduction in receiving and shipping labor and another achieved a return on investment in just 3 months!
A VIMAAN inventory tracking engineer could help identify ways you could achieve comparable results. We can even put you in touch with our customers who have replaced their handheld barcode readers with solutions that are faster, more accurate, and help prevent damaged goods from entering and leaving their warehouses.